News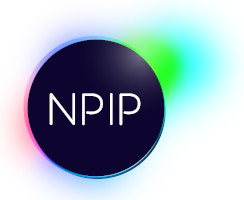 Total Body PET Scanner Installation
The PET Centre has been awarded a £13 million grant for the installation of a state-of-the-art total-body PET scanner as part of the National PET Imaging Platform. NPIP is the UK's first-of-its-kind national total-body PET imaging platform for drug discovery.
Driven by a partnership between Medicines Discovery Catapult, the Medical Research Council (MRC) and Innovate UK, NPIP is designed to give the UK's pioneering researchers unprecedented access to technology that will explode the scope of research into multi-organ, complex diseases.
NPIP will bring together data from two state-of-the-art total-body PET imaging scanners located at St Thomas' Hospital, London (jointly managed by King's College London and Imperial College London), and The Royal Infirmary of Edinburgh (jointly managed by the Universities of Edinburgh and Glasgow), and make it accessible to academics, industry and clinicians.
Supplied by Siemens Healthineers, the two Biograph Vision Quadra PET/CT scanners are equipped with technical precision that redefines the boundaries of molecular imaging and enables imaging of a patient's entire body in near real-time.
The scanners are expected to be operational as soon as April 2024.
This network of infrastructure and intelligence will not only provide a complete picture of patients and how they respond to novel drugs and treatments, but it will connect insights from a multitude of research programmes and trials.
NPIP will help connect imaging data and make the UK's medical research more effective for patient benefit.
For more information about NPIP and its partners, please click here.
---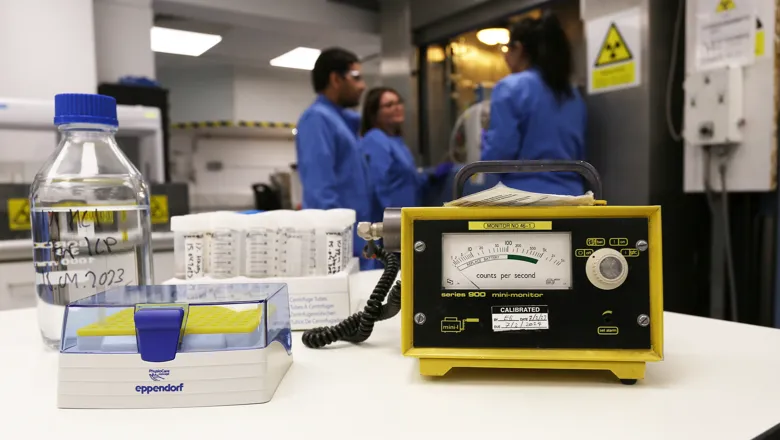 CARL: A New Radiochemistry Laboratory
The Cyclotron and Radiochemistry Laboratory has reopened as a national research-dedicated centre specialising in radionuclide production and radiopharmaceutical chemistry for preclinical applications.
Click here for more information.
---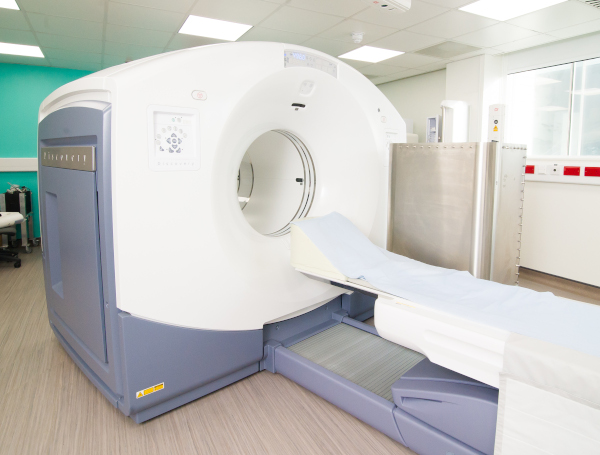 First PET Scan Using a New Tracer for Prostate Cancer Diagnosis
For the first time in the UK, patients have been scanned in the King's College London & Guy's and St Thomas' PET Centre using [18F]DCFPyl, a new Prostate-Specific Membrane Antigen (PSMA) PET tracer for the detection of prostate cancer.
This tracer has recently become available in London and has shown to be a valid alternative prostate cancer tracer with a strong evidence base and exceptionally good image quality.
Click here for more information.
---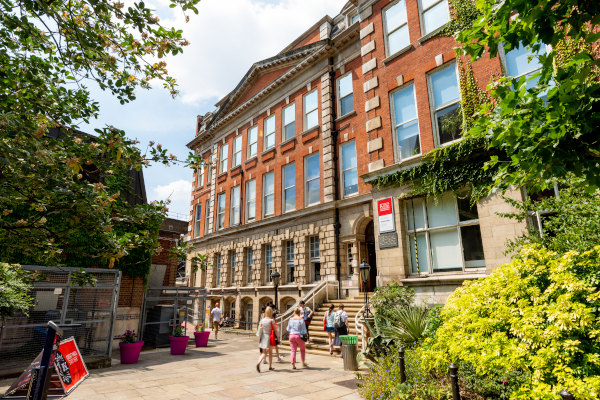 PET Technology and Application Course
Running for its 20th year, the 3 day PET Technology and Application course held in April at the Gordon Museum provided a comprehensive review of the basic principles of PET imaging and conveyed an understanding of modern PET technology. With 35 delegates from all over the UK and Europe, the course was well attended, and the workshops and lectures were engaging and informative.
This very popular course covered a wide range of topics, including PET radionuclide production, labelling compounds with positron-emitting radionuclides, PET instrumentation, PET data analysis, and the use of PET as a tool in basic biomedical research, drug development and discovery, pharmacology, individual patient management, diagnosis, and treatment of disease.
The breakout sessions and small group discussions were particularly effective in consolidating the concepts covered in the lectures, reinforcing ideas, and going into greater detail on some of the topics at the forefront of modern PET-related research. The seminars and discussion groups were guided by specialist tutors with experience from academia and industry who provided high-quality teaching at the interface between knowledge and practice.
The event provided ample opportunity to network, build up contacts, information, and knowledge as an excellent platform for professionals to enhance their knowledge of PET technology and application.
---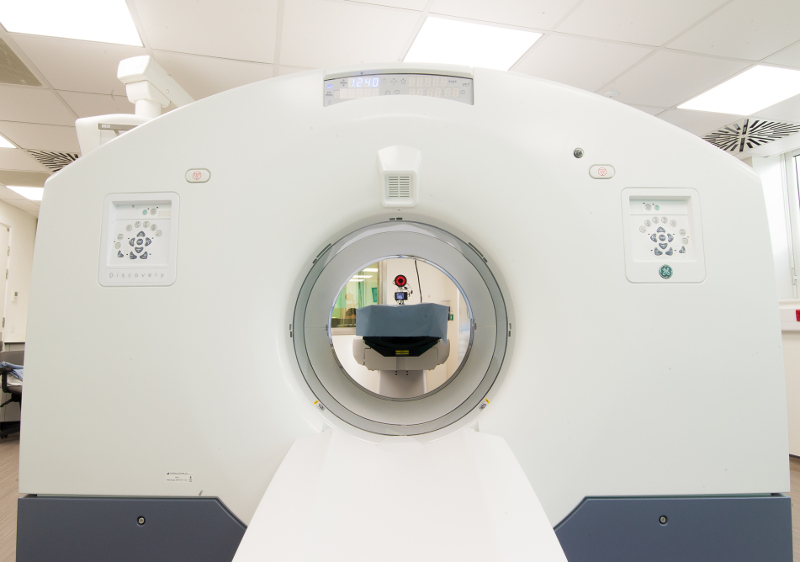 Encouraging Results in a Phase 2 Trial in Patients with an Ultra-Rare Bone Disease
Regeneron have announced encouraging results from a study evaluating a novel drug, garetosmab, which has shown potential as a treatment for patients with fibrodysplasia ossificans progressive (FOP). FOP is an ultra-rare progressive genetic disorder in which muscle and tissue are gradually replaced by bone. Patients enrolled on the study have visited the PET Centre to have 18F-NaF scans to investigate how well the drug is working.
Click here to read the press release from Regeneron.
---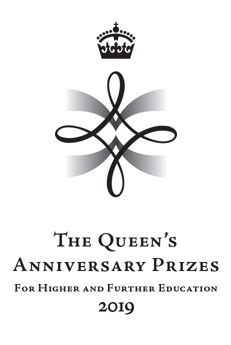 School of Biomedical Imaging & Imaging Sciences Awarded Queen's Anniversary Prize
The School of Biomedical Engineer & Imaging Sciences has been awarded the Queen's Anniversary Prize for higher and further education. This is a prestigious award that is granted every two years and acknowledges the impact of our research on patients and the delivery of exceptional education programmes.
Click here for more information.
---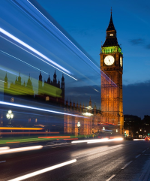 New £10m Centre in Medical Imaging and AI
Greg Clark, UK Secretary of State for Business, Energy and Industrial Strategy (BEIS), has announced a £10m investment in a new Centre that will focus on using artificial intelligence (AI) algorithms to help clinicians to diagnose disease. The Centre, called The London Medical Imaging & Artificial Intelligence Centre for Value-Based Healthcare, will be led by King's College London and is supported by the EPSRC Centre for Medical Engineering, the School of Biomedical Engineering & Imaging Sciences and TOHETI.
Click here to find out more.
---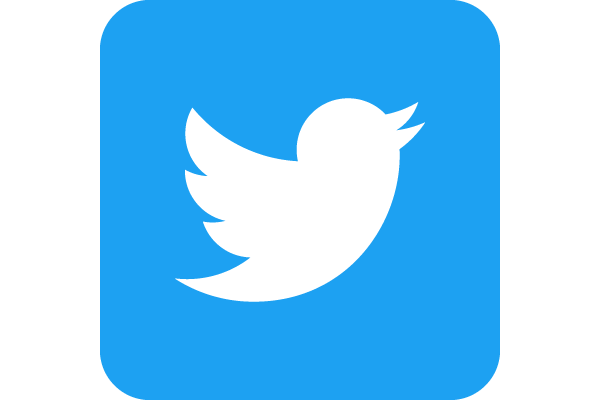 New Twitter Account
The PET Centre is now up and running with its very own Twitter account. Follow us at @KCLGSTTpet to keep up to date with the latest news from the PET Centre and find out about the latest advances in PET taking place at our Centre and elsewhere.
---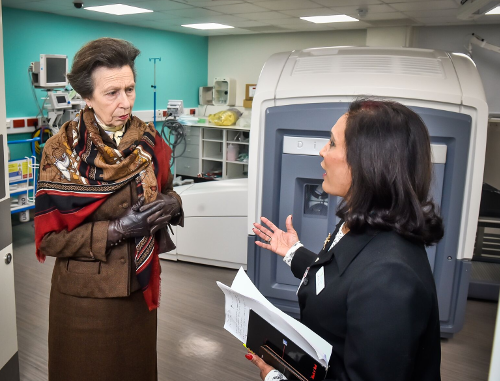 HRH The Princess Royal visits PET Centre
On the 14th December 2017 Her Royal Highness The Princess Royal toured the PET Centre as part of her visit to officially open the Wellcome/Engineering and Physical Sciences Research Council (EPSRC) Centre for Medical Engineering. The new Centre brings together expertise from across the School of Biomedical Engineering and Imaging Sciences, and the Department of Neuroimaging, to create a centre of medical engineering excellence.